Oakland Safety Signs
VIEW GALLERY
Do you work with heavy machinery, in an industry that utilizes industrial vehicles, or just want to make sure that those who visit your facility are aware of potential slip, trip or fall areas? Oakland Sign Company is here to help you ensure your guests and employees are safe while in your facility!
Everywhere we go in our day-to-day lives is full of potential hazards or dangers, how we keep ourselves and others safe can depend on where those dangers are found. Whether you own an industrial complex, a fleet of trucks that transport hazardous materials, or work as a cleaning company, the signs you utilize to inform others of potential hazards is important.
Poorly crafted signs, signs in disrepair, or low visibility signs, will fail to adequately inform people of the potential hazards they may come in contact with. This can lead to injury ranging from a simple sprained ankle to something as devastating as a severe injury or death. When it comes to keeping everyone safe, make sure that the signs you use do the job, right the first time.
Call Oakland Sign Company today at (510) 380-5627 for a Free Consultation!
Safety Signs For Your Business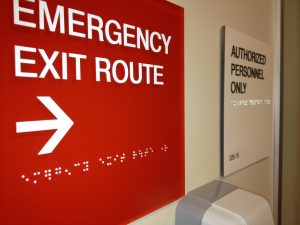 Safety signs are designed to remind and educate those who work or come in contact with industrial equipment, that there are potential hazards associated with that piece of equipment. It is essential that the signage you use is attractive and eye-catching, as it will ensure that your guests and employees stop and take notice of the potential hazards they are about to come into contact with, rather than pass by putting themselves and others in danger.
Oakland Sign Company knows you want to keep your guests and employees safe. Our goal is to help you do that and more. Our experienced graphic designers have worked with various industries and understand how to create the type of signage you need to help keep your guests and employees safe. During our free consultation, we will sit with you and discuss your business, the work you do, equipment and areas where potential hazards can be found, and work to create the signage you need to keep your guests and employees informed and safe. Safety is first no matter what business you work in, let us help you keep what is most important to you safe!
Signs To Keep Everyone Safe
Safety signs aren't only found inside of a business. Safety signs are found everywhere you look, from the truck hauling flammable material, to the caution signs you see in construction zones. Keeping everyone safe is important no matter where you are. Oakland Sign Company has the tools, knowledge, and resources you need to create signage that helps to prevent injury, allowing you to focus on the task at hand. We can manufacture the signage elements you need to alert people of dangers ranging from blasting zones to fire hazards, from construction zones to hazardous materials that are being transported, and everything in between.
When you need a sign that lets people know that there are potential dangers associated with the area they are in, Oakland Sign Company is here to help you out. We can create signs from durable high-quality vinyl signs to high-visibility safety colored metal signs, all designed to inform and keep everyone safe. Whatever your need, our designers, fabricators and installation team is here to understand your needs and goals, and recommend the signage elements you need to keep your operation moving forward.
Call Oakland Sign Company today at (510) 380-5627 for a Free Consultation with Safety Signage Expert!
Full-Service Signage Company
As a full-service signage company, we create all of our signage solutions, right here locally. This allows us to work with you on all aspects of your signage project from the initial design concept through the fabrication and installation phases. During our free initial consultation, our knowledgeable consultation staff will discuss your goals, needs, location, brand, and business personality. We want the signs that you use, reflect your desire to keep people safe, but also promote your business and brand as the voice of safety.
Once we have a solid understanding of everything you need, your business and goals, our graphic designers will craft a 'proof' of what your final signage project will look like. This is a perfect opportunity for you to see exactly what your signage will look like. Should you require any changes such as size, font, or colors our team will be able to adjust them at this time.
Once you have approved of your final signage draft, our experienced team of fabricators will being crafting your signage project. We custom create all of our signage projects locally, allowing us to source all of the materials you need for your signage project. This allows us to provide high-quality attractive signage solutions at a lower cost than other sign companies. If your sign requires any permits or needs any additional elements, we will take care of it during this phase. Once your project is complete, it moves onto the installation phase.
Depending on the complexity of the signage elements your sign can be self-installed. On the more complex signage solutions, we recommend our talented installation team complete the work for you.
Free Safety Signs Consultation
Our mission is to provide both attractive signage solutions to our clients, as well as superior customer support and experience. Our team of designers, fabricators, and installers are dedicated to ensuring that the signage solution you want is the signage solution you get. For any business to grow and keep their guests and employees safe, they need a reliable, experienced partner to help them. When it comes to finding a signage partner that has the experience and knowledge, and reliability you need, look no further than Oakland Sign Company!
Call Oakland Sign Company today at (510) 380-5627 for a Free Consultation with Safety Signage Expert!