Oakland LED Signs
VIEW GALLERY
Competing with fellow businesses without the perfect business sign to make the brand visible and promote it can take time and effort. But, if you want your business sign to be visible at any given time and provide you with the flexibility you need to promote your brand effectively, one of the best practices to consider is investing in LED signs.
LED signs offer flexibility and visibility no matter what type you use. LED signs use LED lights available in various colors and only require little electricity to be at maximum brightness. LED lights may even have animations and other features to help them stand out. Thanks to their modern design, LED lights do not require regular maintenance. It is easier to repair or replace than traditional lights. LED signs are pretty flexible as they can be designed or programmed to display any content easily.
For your Oakland LED signs, Oakland Sign Company can make your experience stress-free thanks to our streamlined service. We handle every step of the project in-house, and you will be guided by one of our experienced and creative team of sign experts. We guarantee that the final product will perfectly suit your brand and promote it effectively to get the impressions needed to grow your business.
Call Oakland Sign Company at (510) 380-5627 for your Free Consultation with an Oakland LED Sign expert!
Indoor LED Signs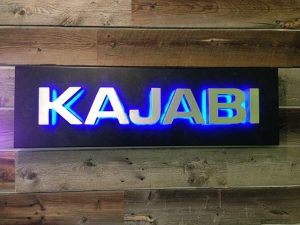 Thanks to their features, LED signs are often used indoors as identification signs, wayfinding signs, and even an additional wall display.
For your Oakland LED signs, we don't just make sure that it is personalized to your brand. We will also ensure that these signs are installed in the optimal location for them to get the most exposure and impact.
We can also customize it to promote the content you want people to see and ensure the right audiences see it regardless of their reservations about signs and displays.
Programmable LED Message Centers
If you want your LED signs to allow you to promote more than you can with traditional LED signs, we recommend investing in programmable LED message centers.
Programmable LED message centers can be shaped in any image and size and simultaneously show text, video, and photo content. You can get these message centers either as a standalone sign or as a part of a larger business sign. Let our team know what you want your programmable LED message centers to be like, and we will ensure they can display the content you want them to promote. We will enable your message centers to show two types of content simultaneously and appear at key times in the day.
Once we finish making your LED message centers, they will be installed by our team of installers and electricians to make sure they are installed safely. They will also handle the permits your sign may need before installing it. We will also teach you how to update the message centers and how you can plan the content to catch the right audience at the right time.
Full-Service Lighted Sign Company
Whether you request your Oakland LED signs from us or another type of business sign, Oakland Sign Company is ready to make them happen. We can create any business sign that can be used for any application or business goal and customize it to promote the brand and content ideally.
When you reach out to us, we will take our time to get to know your business, your business goals, and what you want your signs to look like. Our sign experts will use all your information to create a draft design for your sign. We'll show you how we will make the project more efficient and deliver the signs that will help you shine.
Our Oakland, CA sign company does the entire sign project in-house to guarantee quality. We can streamline the project and deliver the signs on time. We use high-quality materials and up-to-date equipment to build the signs we are requested to make. Before it is handed to our experienced installers, the signs are double-checked to guarantee they are not missing any elements. Our installers will bring the signs to your location and pick the best installation spot.
If you have an existing design for us to use, let us know, and we will update it to make it more effective in achieving your goals. We can also recommend how the sign can be designed and what materials can be used for your signs. Our team will also visit your location to determine where these LED signs should be installed for better impact. If required, we can deal with the permits before we bring the signs up for installation.
Free LED Sign Consultation
Regarding visibility, it is always a huge advantage to have signs with additional lighting, like LED, because it can appeal to their target market even from a distance. You can also use a LED sign for indoor applications, which is not possible for other types of business signs.
Oakland Sign Company will sit down with you to design the LED signs to your specifications, even if you are on a budget, and start manufacturing them immediately. We can also help you pick suitable materials, LED lights, and other features to help your LED signs be more fitted to your brand. Our experienced team will handle the installation. They will also select the right location for it so it will catch the right audience every time. We even have a team ready to help you maintain it to extend its lifetime.
Learn more about our LED sign service and the other signs we can make for your business today by availing yourself of our free consultation service. We guarantee you won't be disappointed with our team and the LED sign you will get from us whenever you need it.
Call Oakland Sign Company at (510) 380-5627 for your Free Consultation with an Oakland LED Sign expert!